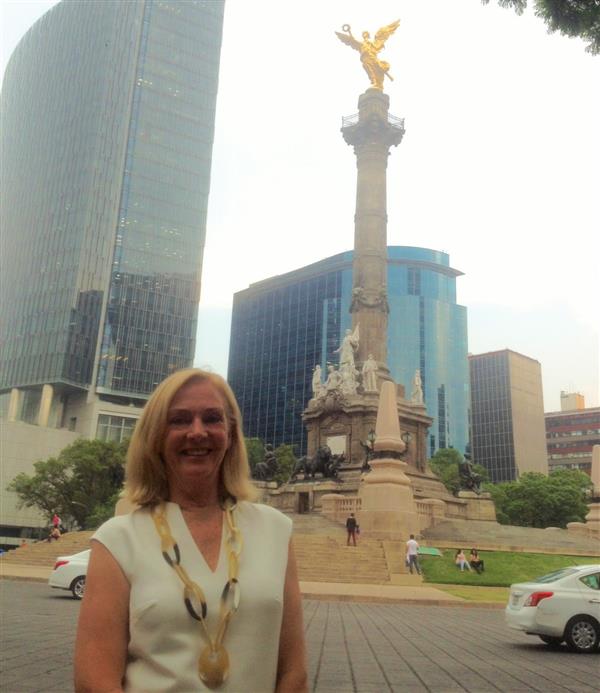 What a wonderful opportunity for me to share this week's blog with you from the amazing metropolis of Mexico City. My hotel room overlooks El Angel, The Angel of Independence, reminding me how lucky I am to be independent and able to travel, experience different cultures and enjoy the generous hospitality of the Mexican people. I am here for the Association of Image Consultants International Conference, speaking, being stimulated and learning from others at this truly inspiring event.
Apart from seeing some of the sights including the famous Blue House, art museum and former home of the famous artist Frida Kahlo; which I highly recommend visiting, I'm here to take in the education, socialising and networking.
I think that association events,women's business groups, and these types of events are forums where the networking scenario is more acceptable and easier in a way. We know other people and are generally quite relaxed; but how do we make sure we maximise the time we spend there? Try these few tips.
Set goals before you go. Not only what you want to achieve from the conference in terms of business or career goals but also the networking opportunities.Ideally meeting people with a view to building professional relationships and potentially helping each other in the future with work or referrals.

Network at the variety of events on offer. If there is an after-hours cocktail party and you have the opportunity to attend – go. But remember you are not there for the free food or drinks. Focus on meeting people and building relationships. Sit with people you want to meet, know and like or want to connect with in a deeper more meaningful way. You don't have to meet everyone – that's impossible.Choose to have fewer but more meaningful quality conversations.

Socialise and help the new people feel welcome. Also remember the sponsors. Events don't happen without them. Meet and greet and if the product or service is for you – buy.

When mingling, have a few questions ready to ask such as:
-What does your company/you do?
-What kind of products/service do you sell?
-What do you like most about your business or role?
-How did you get started in this industry?
-You will be asked "what do you do?", so have your answer prepared with a succinct sentence summing up your business or job and offering. Don't waffle on – keep the focus on them.
Impress. By that I don't mean to draw attention to yourself but do make a good first impression. Smile, extend your hand and introduce yourself. Look the part of a professional by wearing the appropriate business clothing or smart casual attire. Have a professional business card to present to them.

Spread the word about the event before and after. Profile the quality speakers, highlight the event, take photos and send out on social media networks. Help promote the industry to a wider audience.

Evaluate your contacts and keep in touch. Determine who you will follow up with immediately and regularly or contact every so often. Perhaps send a LinkedIn request or ask permission to add to your data base. Give them a call to see if they may be interested in attending XYZ event coming up and extend the invitation to join you.
Read last week's blog Create Personal Brand Impact with Colour

Sue Currie is a personal branding specialist providing solutions to business owners and organisations to boost their image, renown, brand and business. She is the founder of Shine Academy™, providing education and professional development training and Shine Agency™ a firm providing personal branding and public relations services to help businesses and entrepreneurs position and present an impactful professional brand. Through speaking, corporate workshops, and consulting, Sue helps businesses and individuals to stand out and shine.
"