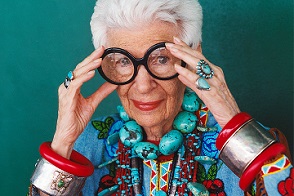 Iris Apfel is a fashion icon and celebrity who is 93 years young. Her flamboyant style is what is most memorable about her – the unique way she wears colour and outlandish pieces of jewellery. A friend of mine is also a very colourful personality. She always wears beaded necklaces, bright clothing and accessories. A diminutive woman but you certainly wouldn't miss her in a crowd. Her style is unique and makes a statement. Neither of these women reflect my style aspirations yet I admire the way they express their personality and personal brand through what they wear.
For my friend her choice of career over the years has not been conventional – so corporate style is not something she has ever considered or practiced. Iris Apfel worked in interior design a fashion related business where creativity and style is revered. For most of us though we do work in a business environment so is it necessary or even prudent to develop a strong signature style? Not necessarily but clothing and style is all about being comfortable and confident with what you're wearing and expressing the best version of you.
If you want to consider upping the ante and expressing more of who you are through what you wear,here are a few ideas to help you create and express an image that has impact.
Determine who your style or fashion icons are. Glamourous Cate Blanchett, suave Daniel Craig as James Bond or the bohemian fashion look of Rachael Zoe? Maybe a rock star look is what you aspire to. Collect images of these people and see what the common thread is. Is it the simplicity of style,the colour choices, the cut and fit of the garments? You could make Pinterest board or simple file of the looks that appeal to you.

What objects and things do you love? Are they treasured pieces of fine bone china or bold, brass statues? Does art work of a particular style stimulate you? Write down or again collect images of objects that appeal to you.

What colours appeal to you? Your colour choices may say something about your style more than you think. I love gold. Here's a summary of what I read about gold.
Gold represents loyalty and responsibility. When your primary choice is for gold, the colour personality tests consider you an organiser. You love a peaceful environment, you value work and service oriented tasks. You have a greater degree of performance, stability and orderliness.
This description may be one aspect of my personality but when mixed with other colours I like –I get another more holistic understanding of my personality characteristics. Try it and see what your colours say about you.
Do you have a favourite or ideal holiday destination? How would you describe that – what does it look like?

What does you ideal home look like? Again thinking about that visual representation will give you more insight into your style influences.
Once you have all these visual elements noted you will see some common threads coming through and you can start to determine your signature style. For instance are your images, cool, white, Scandinavian and simple clothing styles. Or maybe it is colourful and tropical.
The style images you have collected may be flamboyant or perhaps seem unrealistic to you to attain and wear to work. However think about the images as a reflection of just a part of you – perhaps the creative edge to explore a little further. Given your line of work maybe it is not always possible to express exactly what you would like. I think Iris Apfel would raise a few eyebrows if she was advising clients in a law firm, or seeing patients in a clinic. But wearing her fabulous trademark glasses might be enough to give her personal brand that stylish edge.
Who are your style influencers? What are you style influences and what impact would you like to make through your visual impression?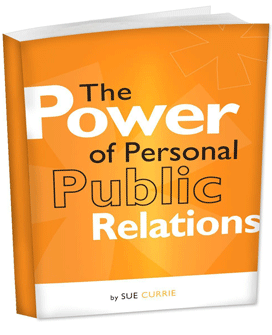 In my free eBook The Power of Personal Public Relations I write more about image and your personal brand. Download your copy here.
Subscribe to my regular news blog sent every two weeks to your inbox.
Read last week's blog Parisian Presence and Poise


Sue Currie is a personal branding specialist and director of Sue Currie Communications an agency providing an integrated strategy of personal and professional public relations solutions to help business owners boost their image, renown, brand and business. Through speaking, corporate workshops, and consulting, Sue helps businesses and individuals to stand out and shine.