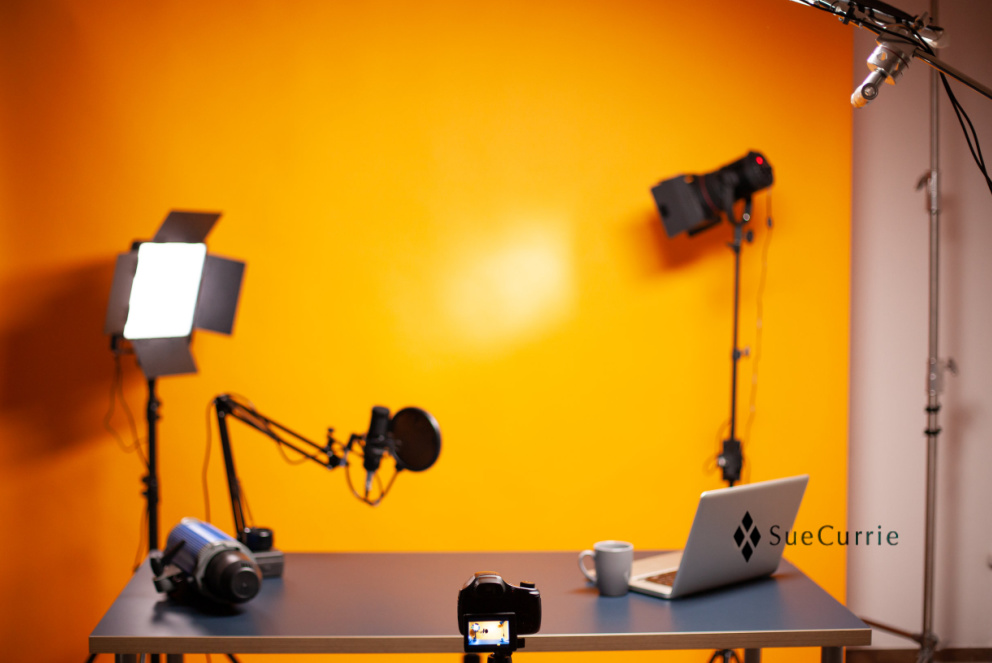 Are you like a deer caught in the headlights when it comes to appearing on screen? Stunned – can't move and afraid?
Of course not. Now more than ever, being on screen presenting or meeting is a necessary requirement for all business professionals. However, it is not always easy to step outside of our comfort zone and try something new or unfamiliar.
I'm sure by now, in this virtual world you have been involved in a Zoom webinar or meeting and have had to navigate the various elements of technology, delivering to the tiny, bright dot on top of your computer and figuring out how to share your slides. Do you remember your first time?
I clearly remember my first-time meeting online with a friend. It was a hot day, I was in my home office and I was wearing a strapless top. When my friend saw me, she exclaimed, "I see you've turned up to the meeting naked!" Not a good personal brand impression.
Moving on from those early days of Zoom, you and I have by now learned the basics of how to present virtually. Now it is time to step it up a notch and master the elements of video whether that is recorded and shared on YouTube or "lives" on Facebook, Instagram or LinkedIn.
As a marketing strategy for your personal brand and business, video is the "go to" tool to use. Why?
Video and lives deliver a closer relationship with your audience. Audiences tend to feel connected to you and to know you and your service delivery or products a little better. This increases the chances to gain more credibility and really send out your message in a dynamic way.
Creating connection, relationships and trust, plus overall brand awareness is how we drive sales in our businesses. That combined with informing, helping and educating our audiences, makes video a very powerful tool.
Online statistics say the percentage of internet users worldwide who watch online video content is an average of 85%. That is a potential market that may be untapped for you and your business.
Further statistics reveal that 73% of consumers claim that they have been influenced by a brand's social media presence when making a purchasing decision.
The platforms most commonly used for posting social media marketing videos are Instagram, YouTube and Facebook. The platform you choose depends on where your public is. Understand, learn and do that one well and after you get good results from one platform you can start do another.
Another reason to embrace video is by posting them on your website with a link to YouTube, that will help maximize your SEO as YouTube is recognised as the world's second largest search engine.
Okay, are you convinced?
Producing videos can be a stumbling block for many reasons mostly related to feeling self-conscious and fearful. The first step is always the most difficult, but it does get easier over time. Practise – not perfection is the way forward.
Audiences are looking for connection and information that is entertaining or useful to them, rather than a slick production, it is best to be real and engaging.
There are many ways of producing videos: studio productions, in your office or home, on location with a simple iPhone, "lives" and more.
Here is a suggested three step process to get started with video.
1. Start at home first to get practice at delivering effectively to the camera and fine-tuning your message and to get used to working with the basic equipment. You can start doing videos of your tools and your services process, the videos do not need to be just with your face.
2. Work with a video producer to get one or two professional videos done to post on your website and YouTube. You can get the top and tail done of your videos and use for future editing. You will also observe lighting and camera angles and gain confidence.
3. Thirdly, start to build up your equipment, such as lights, good camera, microphone, editing software etc and create your own small video studio in your home or office.
It may feel awkward at first but like anything else in your business, maintain consistency and you'll see results. Find a rhythm by scheduling a specific day and time to go live each week or to set aside as a recording day.
The benefit to your business of video marketing is increased leads and potential new clients as a result of education, interaction and engagement with your audience.
Start now to grow your network and client base by stepping into the small screen spotlight.
Learn more about your "hook" and how to communicate your personal brand message in my free video series Your Nook, Look, Hook, 3 Steps to Build a Stand Out Personal Brand
Sue Currie is a speaker and the author of IMPRESSario, Present and Promote the Star Within You. She is passionate about helping business executives and entrepreneurial professionals elevate their personal brand, image and professional presence. Sue's suite of services delivered through workshops, consulting, coaching and keynote presentations provides a multi-faceted approach to gain high transformation for her clients.