IMPRESSario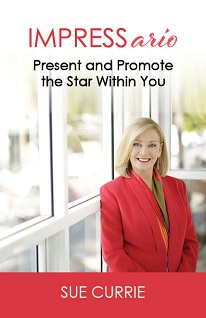 IMPRESSario
IMPRESSario Present and Promote the Star Within You
In this book, Sue Currie invites you to become an IMPRESSario – an ingenious blend of entrepreneurial businessperson, who is like the producer of a theatrical production – an impresario and a person who impresses others.
Filled with inspiring stories, practical steps and easy-to-follow exercises, IMPRESSario takes the reader on a journey and demonstrates how to create a memorable brand that has impact.
All good theatrical productions have their share of drama and this is also the case in IMPRESSario. In the pages of this book, you will read about how the author overcame heartache at a young age to eventually achieve a successful career. You will also learn how to take your own behind-the-scenes story and use it to positively shape your future direction.
Go ahead – create an impression, make your mark, build your business and be the person you are truly destined to be!
RRP: AUD $29.95 ISBN: 978-0-646-93423-5 (includes postage)
Secure purchase through PayPal with Credit Card. No account needed.
Orders outside Australia - IMPRESSario is available also at Amazon
IMPRESSario is available also at Booktopia
Bulk orders of six or more - AUD $15.00 per book (plus postage) To order call 1300 723 713