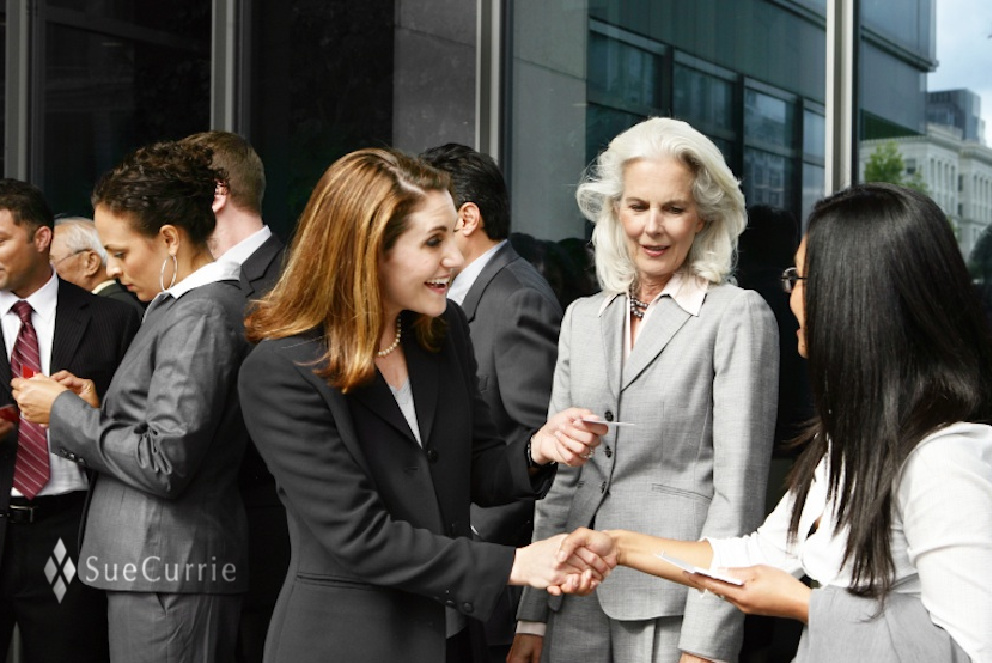 Recently I had a chat with a colleague who is heading off to Fiji for an industry conference. Wish it was me! Not this time but it is great to see that large scale events like this are back in full swing. The conference sounds like it will be stimulating with leading speakers, high-level education, socialising and networking.

When I am speaking or attending conferences like this, I always enjoy learning, connecting with colleagues who may be there and forming new professional relationships. I like to make the most of these occasions whether it is an industry event or large-scale conference.

I think that industry or association events with a guest speaker are forums where the networking scenario is a lot more acceptable and easier in a way. We may know other people there and we are generally more relaxed. But how do we make sure we maximise the time we spend there?

Whether you're attending a work conference or a smaller networking function, try these few tips to help you network, connect and build your personal brand.

Set goals before you go. Not only what you want to achieve from the conference in terms of business or career goals but also the networking opportunities. Ideally meeting people with a view to building professional relationships and potentially helping each other in the future with work or referrals.

Network at the variety of events on offer. If there is an after-hours cocktail party and you can attend – go. But remember you are not there for the free food or drinks. Focus on meeting people and building relationships. Sit with people you want to meet, get to know and like or want to connect with in a deeper more meaningful way. You don't have to meet everyone – that's impossible. Choose to have fewer but more meaningful quality conversations.

Socialise and help the new people feel welcome. This is particularly pertinent if you're part of the committee or have been a long-time member of your association. Also remember the sponsors – events don't happen without them. Meet and greet, and if the product or service is for you – buy.

Strike up a conversation with others with a few questions ready to ask such as:

What does your company/you do?
What kind of products/service do you sell?
What do you like most about your business or role?
How did you get started in this industry?
You will be asked "what do you do?", so have your answer prepared with a succinct sentence summing up your business or job and offering. Don't waffle on – keep the focus on them.

Impress. By that I don't mean to draw attention to yourself – but do make a good first impression. Smile, extend your hand and introduce yourself. Look the part of a professional by wearing the appropriate business clothing or business casual attire. Have a professional business card to present to others or suggest connecting via social media.

Spread the word about the event before and after. Profile the quality speakers, showcase the sponsors, highlight the event, take photos and send out on social media networks. Help promote the industry to a wider audience. This in turn shows your support and appreciation to the organisers.

Evaluate your contacts and keep in touch. Determine who you will follow up with immediately and regularly or contact every so often. Perhaps send a LinkedIn request or ask permission to add to your data base. Give them a call to see if they may be interested in attending XYZ event coming up and extend the invitation to join you.
Attending conferences is a wonderful way to boost morale for all the team (even if that is just yourself) and mingling helps gain brand and business momentum.
Need more personal branding tips? Then download my free video series, NOOK, LOOK, HOOK 3 Steps to Build a Stand Out Personal Brand.

Sue Currie is a speaker and the author of IMPRESSario, Present and Promote the Star Within You. She is passionate about empowering business executives and entrepreneurial professionals to unleash their leadership potential, amplify their confidence, and elevate their professional image through personal branding, executive presence, and impactful presentation skills. Sue's suite of image management services delivered through workshops, consulting, coaching and keynote presentations provides a multi-faceted approach to gain high transformation for her clients.