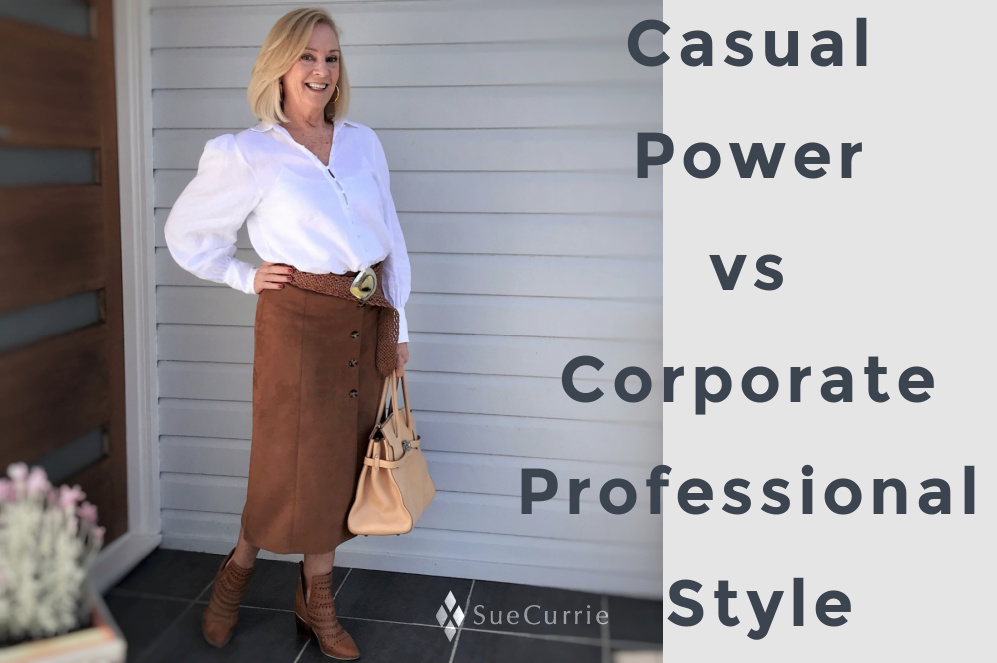 Now that the world has opened up again and you are back at work, the age-old question of "what to wear to work?" seems to come up. Particularly if you are doing a mix of in-office and work from home. This topic has been the subject of quite a few blogs and articles I have read recently and well, the verdict is out – it depends.
Generally, I think that smart business casual has been the "norm" for a while in the workplace. In the "new normal" now we're back into workplace offices, I don't think it will change too much. The "dress for your day", code has been in place in many organisations and with it comes a sense of freedom for many employees, yet others and some employers would prefer a look and style that is more on brand and in alignment with clients and customers expectations.
Many businesses require a uniform, such as the club industry where I have done quite a bit of work, and other environments where a uniform is part of the brand image. It makes the decision of what to put on that day a lot easier. A uniform keeps it simple, with everyone in the organisation reflecting an appropriate visual look that is reflective of the professional brand image to visiting customers.
Not everywhere has a uniform. However, there is an underlying code of dress in a business environment which is smart, polished and professional. Or is there?
One comment I read said, "If I dealt with someone that couldn't care less as to how they looked, what care would they take with the work I give them?" That was a personal opinion and yet another had quite the opposite view.
"I've always loved dressing casual. People underestimate you, so it's funny seeing them impressed with your performance. Plus, I work better when I'm more comfortable, and there's not a single piece of professional clothing that is as comfortable as casual wear."
It does come down to the type of work you do, whether you are client facing or not and the environment you work in. In sub-tropical Queensland you would dress differently at work to what you would wear to a business meeting in Melbourne.
If it is up to you and there are no guidelines or uniform in place – it is also up to you how you wish to be perceived by your visual communication. Your personal brand is always on show.
So how do you approach it and come up with a style reflective of your personality and get the right balance of personal brand and professional brand? Here's a couple of ideas..
Casual Power. I'm asked to attend a meeting in person where they have told me it will be casual – no need to dress up. I still need to look business like as I am there to discuss or potentially win new business. Best bet is smart trousers and top with a blazer over the top. Statement jewellery and flat closed in shoes. A male alternative would be smart pants, open neck long sleeve shirt, jacket – optional.
One time when I worked as a senior executive in a corporate environment, I was asked by an EA why I didn't wear jeans like the rest of them. I do love jeans, they're a favourite item of clothing for me but not at work (unless I am working from home). As a leader I wanted to set the example and also reflect my own personal brand, that you can still be business casual and show a bit of style without wearing jeans.
Creative Casual. I work at an App developer/advertising company/internet provider – i.e everyone is super casual. What do I wear?
Well, you wouldn't want to be seen dead in a three-piece suit. Just wouldn't be right for that environment. Even if you are the founder or COO, a hoodie is not compulsory.
There are a lot of hugely successful companies where productivity and brand are not impacted at all negatively by what employees are wearing. You would find however that the heads of these types of businesses would still dress professionally (maybe even in suits) if they were meeting with bankers or investors.
Best bet is to keep it simple but polished. You also have the opportunity to be creative with colour, textures, patterns and design elements in your clothes.
Corporate Chic. Business dressing everywhere has become more relaxed over the past years. Long gone are the days of very formal, pin striped suiting. Yet some men still do like to wear a suit as it puts them into a different mindset. Ties are not worn nearly as much and pantyhose worn by women has become the exception rather than the norm.
Most businesspeople wear smart, business casual and just blend in. You deserve more. Particularly as the "great resignation" for you may mean that you are now freelancing or setting up a business and competition for clients is high. One way to gain a competitive edge is through your individual brand and style and the colours you choose to wear. Corporate or casual you can still look chic and inject personality into what you wear.
I often say, "You are a walking talking business card for your brand and business." What sort of impact do you want to make through your brand image?
To take your style up a notch, that's where I come in as your style and image consultant to go-getting professionals.
Learn more about how to style your personal brand in my free video series Your Nook, Look, Hook, 3 Steps to Build a Stand Out Personal Brand
Sue Currie is a speaker and the author of IMPRESSario, Present and Promote the Star Within You. She is passionate about helping business executives and entrepreneurial professionals elevate their personal brand, image and professional presence. Sue's suite of services delivered through workshops, consulting, coaching and keynote presentations provides a multi-faceted approach to gain high transformation for her clients.