Image is both internal and external. This is a line I wrote in a chapter from the first book that I coauthored; Apprentice to Business ACE – Your Inside Out Guide to Personal Branding.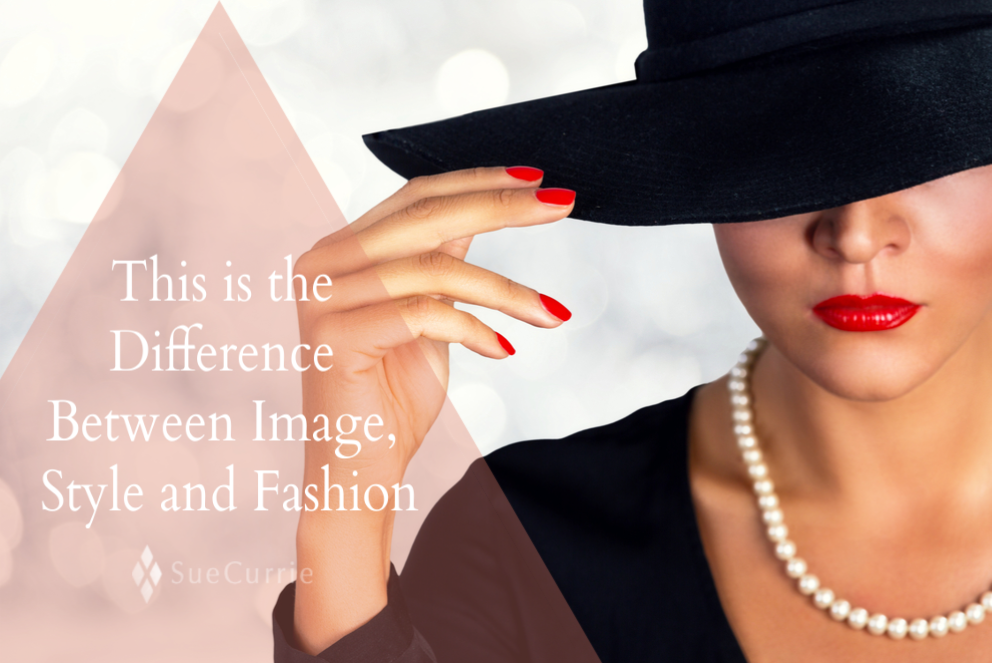 That was in 2007, many years ago but "image" in today's world is still relevant.
But what is image really? And what is the difference between, image, style and fashion?
When I explain to people what I do – an image consultant – it may seem to some as one-dimensional, perhaps even old-fashioned and all about the clothes you wear. Yes, that is part of it, but image management is more than that.
Public relations consultants are in the realm of image management, managing the reputation of their clients in the media and public eye, so too are personal branding strategists who often specialise in digital and social media strategy. Let's not forget photographers and videographers who create personal profile images. These roles also may require styling for photographs and media appearances.
For me – well I have done and still do a bit of all that. About Sue.
But back to image, style and fashion.
Fashion is about the latest trends and creativity. The fashion business is big business and leading designers are always innovating and coming up with something new. Often those fashions are replicated to provide a much more cost-effective to the consumer. Yet not everyone looks great in the latest fashion trends.
Style is more innate. It's understanding what suits you, your shape, age and your unique personality. Your personal style may incorporate a few fashion items to keep your look up to date. If you dress to suit your own style, you are displaying a confidence and positive attitude that is totally engaging.
There's a famous story about fashion icon Coco Chanel that says when she died she only had two outfits in her wardrobe. Although "fashion" was her business, she was a woman who displayed a strong sense of her style and personality in whatever she wore.
Image on the other hand is not just about how you dress.
According to Image Innovators, and many other professional consultants working in the image industry, total or holistic image has 5 key areas:
INNER IMAGE: comprising of how you feel about yourself, your values, your experiences and self-confidence. This is the bedrock of who you are. When problems exist in this area they need to be addressed as they will impact the other four areas.
ASSUMED IMAGE: people have an often unconscious expectation of what you should look like and how you should act. Particularly in this world of social media and easily assumed perceptions. It's wise to meet expectations, meaning, walk your talk, as once satisfied they smooth the road ahead.
Assumed image is also your visual image: all areas of how you look including dress, grooming, facial expression and posture.
EXPERIENCED IMAGE: you in action, your communication skills, people and social skills, body language and vocal sound.
PROVEN IMAGE/REPUTATION: you, as experienced over a period of time. Being aware and working on all areas of your image will get you further, faster than just working in one area.
So as you see, image is more than just the way you look.
Actors and entertainers, media presenters, speakers and politicians are in industries where appearance and image are of vital importance and recognised as a major part of the job.
Stars spend time and money on making sure their style and appearance is exactly right for their stroll down the red carpet. They understand to get a positive response from the public and media they must project an outstanding presence. To stand out, a high-profile person must be able to count their total image as a strength.
If you would like to learn more about image and personal brand, take a look at my free video series, NOOK, LOOK, HOOK, 3 Steps to Build a Stand Out Personal Brand.
Sue Currie is a speaker and the author of IMPRESSario, Present and Promote the Star Within You. She is recognised as a leading authority on personal branding to boost image, profile, brand and business. Through her image management programs, workshops, consulting and keynote presentations, Sue helps businesses and entrepreneurs present an influential brand image.