A work colleague of mine is in the throes of holding a golf fundraising event. Another is about to stage an educational seminar with guest speaker at their venue's new meeting room. I'm in discussions regarding co hosting a public event. So what's this got to do with you? Well these "special events" come under the umbrella of public relations and are a great way to promote your business and your brand.
This blog was prompted by a reminder email about Convene Queensland an event coming up to showcase the meetings and events industry in Queensland. I visited last year, chatted and networked and while I was there I met people from the Professional Conference Organisers Association (PCO) who invited me to speak at last year's conference. Networking works!
Networking is one way to build your brand and so of course is putting on an event. The events and meeting industry is big business and worth millions of dollars to the Australian economy. Companies and organisations value the impact of a well-planned and staged event whether large or small on their clients, customers and in turn their own brand.
If it's done well you may gain media coverage, raise the profile of your brand and increase awareness of your products or services. If nothing else it is a great way to get clients, prospects and influencers together to help spread the word about you and your business.
Over the years I have been involved in planning events from staging and compering fashion shows in shopping centres, to seminars for 6 people through to television show launches, hotel openings and more. Every event is different but here's a brief checklist of how to manage an event, from the largest scale to the smallest. It could be a networking event, a media conference, seminar or workshop, fashion parade, open day, product launch or even a cocktail party.
The Beginning
Paying attention to every detail creates a professional image for your business. Begin with the basics by developing your message and branding, choosing the venue or site, date, start and finish times. Organise the legalities – check council permits, contracts, letters of agreement and insurance – if it is something as large as a community event. Set budgets, organise sponsors, suppliers and venue facilities.
Entrances and Exits
Give detailed instructions to your guests on how to get there – public transport options and parking stations. Be aware of emergency exits, disabled access, location for unloading of equipment and equipment storage areas, ticketing, queuing, registration and name tags and event site map.
At the Event
Staging – design and decoration. Power, audiovisual, lighting, video or PowerPoint presentation, speakers or entertainers needs. Marquees, tents or stalls, toilets, waste bins and water. Administration, information and lost children area; ambulance or first aid, security, crowd control. Have a contingency plan for wet weather and a crisis management plan. Include a manual and run sheets for all personnel. Event tool kit – consider things like blue tac for posters, blank name tags, first aid kit, torch and gaffa tape.
Production
Book speakers, models/entertainment and accommodation. Organise food and catering, kitchen and bar facilities, hospitality, dressing rooms, hair and make up, media area, alcohol and beverages and any licenses needed. Sort money collection and float; table settings or seating arrangements; merchandise and souvenirs; signage including t-shirts or uniforms.
Communication and Promotion
Contact the media for publicity. Organise media releases, photographic images for press usage on television, the internet and in print. Have a photographer and/or video producer at your event. Letterhead and invitations printed, newsletters and emails issued or mailbox drops. Flyers, posters and programs with telephone numbers and website addresses. Contact numbers in your event manual of organisers, staff and entertainers. Send letters/emails to confirm details. Walkie-talkies for instant communication or mobile phones. Have research and evaluation strategies in place.
The End
Pack up equipment and organise staff to "bump out". Have a clean up plan in place. Arrange collection of equipment. Analyse research and assess budgets. Have a debrief to know what worked and what didn't for next time. Send thank you notes.
An event can create "buzz" and goodwill for your personal brand, business, product or service and perhaps result in extra sales and profits.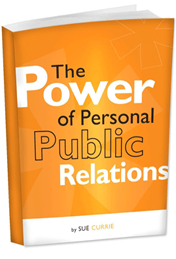 In my free eBook the Power of Personal Public Relations, I write more about events and other tactics to grow your personal brand. Download your copy here.
Subscribe to my regular news blog sent every two weeks to your inbox.
Read last week's blog Shine your Personal Brand through Socialising
Sue Currie is a personal branding specialist and director of Sue Currie Communications an agency providing an integrated strategy of personal and professional public relations solutions to help business owners boost their image, renown, brand and business. Through speaking, corporate workshops, and consulting, Sue helps businesses and individuals to stand out and shine.