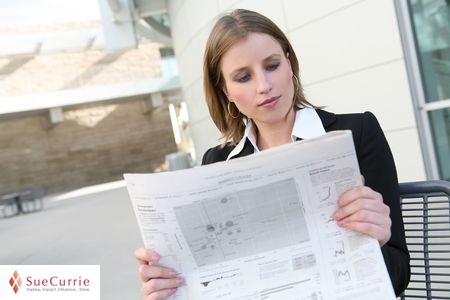 Many studies have been done on high achievers and one of their most common attributes is not that they are always the best at what they do, but that they promote, sell and market themselves consistently. You may have the best product or service or have something really unique but unless you communicate it you will not succeed. People want to get to know you first before they decide to buy from you.
What do you want to say – and what do people want to hear? What is your Unique Shining Point (USP)? With personal PR we are "selling" or telling our idea or story to our target public. And believe me they don't want to hear about the whiz-bang features and benefits of your product. They want to know about the story behind the scenes. What is it about your product or service or YOU that is going to stand out?
What is unique, different, controversial, exciting, newsworthy? You need to determine your wow! factor. In the media it is usually the most interesting, controversial or sensational story that will get coverage. Think about what attracts you to reading a newspaper, celebrity blog or magazine story. It is certainly not dull, statistical information – more likely it's the exciting aspects of the person behind the story; their tale of rags to riches success or misfortune. In a sense we are voyeurs – we want to delve in that person's private life, whether the story is of a high powered entrepreneur or a movie star.
A story that appeals to the emotions is the story that people want to hear about. If that information has some benefit to the reader, viewer or listener, it will have even greater impact and have more of an effect on people's behaviour. When coming up with your USP, consider that what most people want out of life is to feel happy, be in a loving relationship, and have fantastic health and unlimited wealth. So if your story can benefit them by helping them to be healthier, richer or more sexually appealing then you are on a winner!
So to help you in uncovering your story, here's 10 questions you might like to consider.
What obstacles or hurdles have you overcome to get where you are?

What achievements in you past can you talk about?

How can you, your product or service help people?

Have you done anything different, quirky or silly that may capture people's attention?

What is unique about you or your business compared to your competitors?

What was the reason you began your business or chose the career path you are on?

What excites you and why are you passionate about your work?

Are there any business or personal wins that you may have had, such as awards, or securing a major contract or client?

Do you have any particular talent that adds to your role – for example, sporting prowess or musical talent?

Do you have any other point of difference that may help publicise or promote you or your business?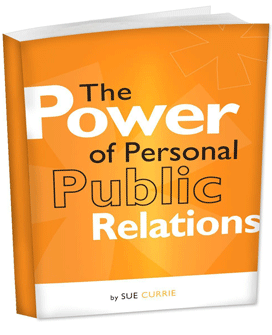 Want to read more? This blog is an extract from The Power of Personal Public Relations. Simply download your free copy of the eBook here.
Read last week's blog Is all Publicity Good Publicity?
Subscribe to my regular news blog sent every two weeks to your inbox.
Sue Currie is a personal branding specialist and director of Sue Currie Communications an agency providing an integrated strategy of personal and professional public relations solutions to help business owners boost their image, renown, brand and business. Through speaking, corporate workshops, and consulting, Sue helps businesses and individuals to stand out and shine.