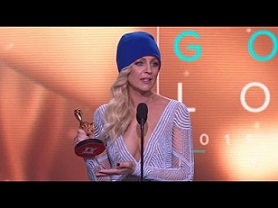 The answer is…yes and no. Often it's how well the message is managed when the story hits the headlines. One story hitting the headlines this week was that of Gold Logie winner Carrie Bickmore who placed a blue beanie on her head during her acceptance speech to raise awareness of brain cancer. It was a moment of truth and authenticity that has a gained a lot of momentum and support for her cause. This is a case of good publicity. Unlike another cancer spokesperson who has been disgraced in the media due to her fake diagnosis.
As we head toward Mother's Day 2015 and the Mother's Day Classic, a fun run to raise awareness of breast cancer, I am reminded of another story from ten years ago – May 2005.
It was when we heard the shocking news via worldwide media of Australian pop singer Kylie Minogue's diagnosis with breast cancer. Unfortunately being the public figure that she is, there was no way this news was going to go unnoticed.
'Team Kylie' reacted quickly. They were very up-front with the media, answered their questions and explained exactly what the situation was. Kylie's Showgirl tour about to hit the road in Australia was postponed. Although disappointing to her many fans booked into her concerts, by being honest and open about the situation these same fans – and media – remained on side during this crisis situation.
There was a huge wave of support for Kylie as she underwent intensive treatment and emerged 18 months later with a clear bill of health. Throughout this time the media were kept informed and remained supportive until the time came to promote her rescheduled Showgirl tour.
Although Kylie's diagnosis was absolutely devastating – the upside – if there is one, is that this story created much more public awareness of the importance of early diagnosis of breast cancer. Every major Australian newspaper, TV current affairs show, magazine and radio talk-back station did some story on breast cancer. Kylie's diagnosis has had a major influence on a whole generation of women.
Although no one on Kylie's management team or those on the event management team of Kylie's original concert tour in 2005 could have predicted such an astonishing outcome – there was no doubt some sort of crisis management plan was in place.
Even though your event or publicity campaign may not be of this scale it is still a good idea to have a plan in place in case of unforeseen situations. Here is a brief checklist to an issues and crisis management plan:
Identify anything possible that may go wrong and prepare a plan to handle the crisis

Organise a crisis team and allocate responsibilities

Have a spokesperson in place that will handle all media inquiries. If the media calls someone else – those calls can be directed to the most appropriate person. Make sure the spokesperson is media trained

Do respond to the media quickly with respect to their deadlines and have all your facts and statistics in place

Be prepared for any possible questions and negative responses

Remain calm and tell it as it is – the truth

In the case of an individual do respect their privacy but don't ever say "no comment" – have some response prepared or say, "We don't have the answer to that yet."

Do show concern and respect other people's position in the crisis – those of your clients, customers and employees

Do be aware of any legal implications before admitting any fault

Keep media and other stakeholders informed at every step of the way

Make an announcement and initiate a positive public relations campaign after the crisis has been averted

Review your crisis management plan and update if necessary
Kylie has proudly re-emerged as a leading pop icon with a reputation as an astute businesswoman and manager of "brand" Kylie. The successful launch of the Showgirl tour in Australia, in November 2006, along with the media management of a very difficult personal time has cemented her place in the pages of entertainment history.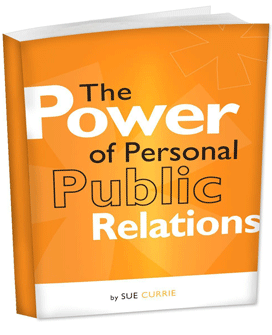 If you would like to understand more about the media, simply download your free copy of the eBook The Power of Personal Public Relations.
Read last week's blog Master the Media Interview to Make Your Mark.
Subscribe to my regular blog and news updates sent every two weeks to your inbox.
Sue Currie is a personal branding specialist and director of Sue Currie Communications an agency providing an integrated strategy of personal and professional public relations solutions to help business owners boost their image, renown, brand and business. Through speaking, corporate workshops, and consulting, Sue helps businesses and individuals to stand out and shine.