In this blog, I'm sharing an extract from my book IMPRESSario on goal setting. I hope you find this an enjoyable read and a useful exercise to do over the holiday break that will help you clarify and potentially realise your goals and dreams for 2022.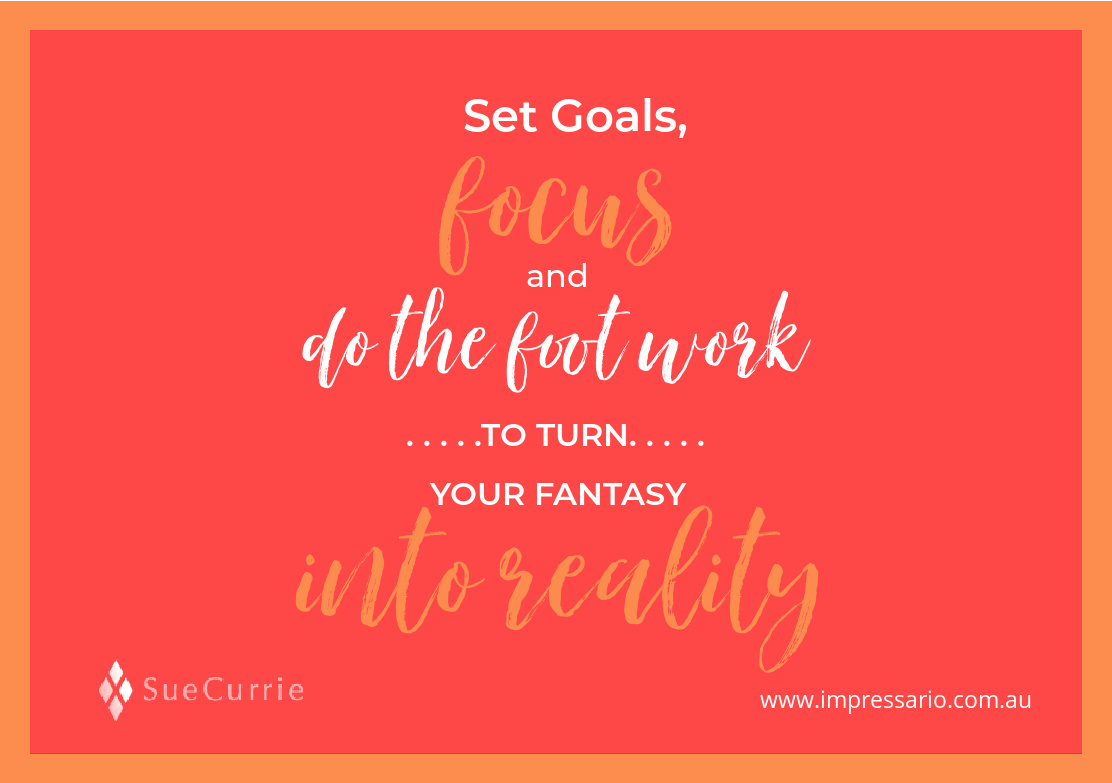 FANTASY + FOCUS + FOOTWORK = FAME
Your goals should be aligned to your values. By understanding and articulating those values and motivators, you will be able to achieve the outcomes you want.
Often people want fame and recognition; the most common aspirations for people are to be wealthier, happier, healthier, wiser, more appealing, and more powerful. But when you break it down what does being wealthier for example, really mean to you? Is it to be a millionaire? Perhaps it's to have sufficient income for a fabulous home and overseas holiday every year? Does being wealthier mean freedom to you or security or accomplishment?
What do you fancy and perhaps dream of and fantasise about? It doesn't have to be some huge, lofty ambition such as being famous and winning an Academy Award. (Or it could be!) Perhaps it could be to win a major businesswomen's award in your community to gain recognition and ultimate growth for your business. What is meaningful to you? Having a good reason behind your goal – your "why" – does help you to retain focus. Why do you want to make one million dollars?
Another aspect to goal setting is to review all areas of your life. Being an IMPRESSario is about designing the life you want. If your business and career is going fantastically well but your personal life and having enough time for friends or romance is a problem, those concerns are the ones you need to address. It isn't necessarily about work/life balance as you may be currently completely driven to achieve your major career goal. But do examine all these areas to understand what you really want. So get busy and write down what you want to achieve in each of these six areas:
Business/Career

Financial

Home

Personal/Spiritual

Health and fitness
Family and friends
Fantasy to focus
To turn your fantasy or your vision into what it is you want to achieve requires tremendous focus. Focus is easier said than done when there are so many distractions in life. (Oh! I just got pinged!). In theory, you already know that you should stop doing those things that won't bring you closer to your vision and start taking action on the tasks that will get you to your desired result. Having a vision board is a wonderful reminder that we should try to break down some of those desires into a to-do list (i.e. set some achievable goals). Concentrating on doing one thing at a time and ticking that off the list does create momentum and helps retain the necessary focus required to push through.
Backward planning and small steps will help you reach your goals. Articulating and putting a timeframe on each step will help you get to where you want to go. You probably know this already yet most people don't take the time required to write out their goals. Take one major goal at a time.
To use writing a book as an example. In this case, a written, clearly articulated goal might be to have 20,000 words written in two months. Let's say we put a month on it; by March 1. How would you break that down? Writing 10,000 words a month means 2,500 words a week. Realistically, it might not happen because other activities – work and life – get in the way. Sure I'd rather be sitting with the girls after yoga having coffee; however, if I don't go home and write at least 1,000 words I won't achieve my goal this week and another week, month, year will have gone by.
Is that what happens to you? Do write down your goals and chip away at them by having focus and taking action. If your goal is to be a millionaire, are you just visualising and wishing and hoping? Or have you found a way to earn an extra $20,000 by taking a part-time job and putting it toward a deposit on an investment of some kind? Do the work, find out what it takes to become a millionaire, a writer, an actor or IMPRESSario in your world and focus on achieving your clearly defined goals.
Footwork
Oh, yes, this is the hard bit. Actually going for that run in order to become healthy. Picking up the phone to set a meeting with a prospective client. Find a way to do what you need to do. Alternatively, of course, you could be thinking you're taking action by writing yet another business plan, reading, researching, being busy doing what? We all do things that waste time and don't get us closer to the mark. It's not easy. Right this second, while I'm writing these words I'm distracted and thinking of the phone calls I should have made this week. There's always so much to do in life so take it one step at a time.
Exercise: Create your action plan
I find the best way to take action to achieve the incremental steps on the way to the "bigger picture" goals is to formulate an action plan. Put a timeline into place. This could be a spreadsheet, a project management system, a document with columns and rows, or simply a notebook with your goals and action steps written down. Your WIP – or work in progress – needs to have an end date to it, with the smaller action steps that need to be accomplished on your way to achieving your big goal. Let's say you have set your sights on becoming an accomplished keynote speaker. What would you need to do to achieve this goal? Some of the tasks would be to write a speech; design a presentation; get some speaking coaching; get some voice coaching; practise your speech; rehearse your speech in front of an audience and contact organisations who would be interested in your presentation. There would be a number of steps involved in your goal. Determine what they are, put them in order and put a timeframe on them. Each time you complete one task, move on to the next. Step by step you will have done the footwork to turn your fantasy into your version of fame.
To make your own luck – work for it
Sometimes I think life is just one big audition. All of us are to a certain extent "waiting in the wings" for our moment to step into the spotlight. You might be in the spotlight now: a leading business person or a famous singer. You might have made a success of your career and be perfectly content with your place in the world right now. If that scenario applies to you though, there still might be other less lofty ambitions. That's the beauty of life – to have hope and to move forward with some purpose.
As an IMPRESSario the easy part is to research your role and write your script. The hard part is the commitment to turning up every day ready to rehearse, practise, face your fears and audition to bring that script to life.
You are an IMPRESSario; this is your life to live so be sure that you make your own luck.
Learn more about Coaching and Consulting to enhance your personal brand.
Sue Currie is a speaker and the author of IMPRESSario, Present and Promote the Star Within You. She is passionate about helping business executives and entrepreneurial professionals elevate their personal brand, image and professional presence. Sue's suite of services delivered through workshops, consulting, coaching and keynote presentations provides a multi-faceted approach to gain high transformation for her clients.