Shopping and styling are on my mind at the moment with my upcoming Saturday Style Series. These sessions are aimed to help you plan a spring/summer wardrobe for the upcoming season. You can learn more about that in this blog.
However, it is a great idea to have a few essential items in your wardrobe that can cross over to any season. Particularly for your work wear wardrobe.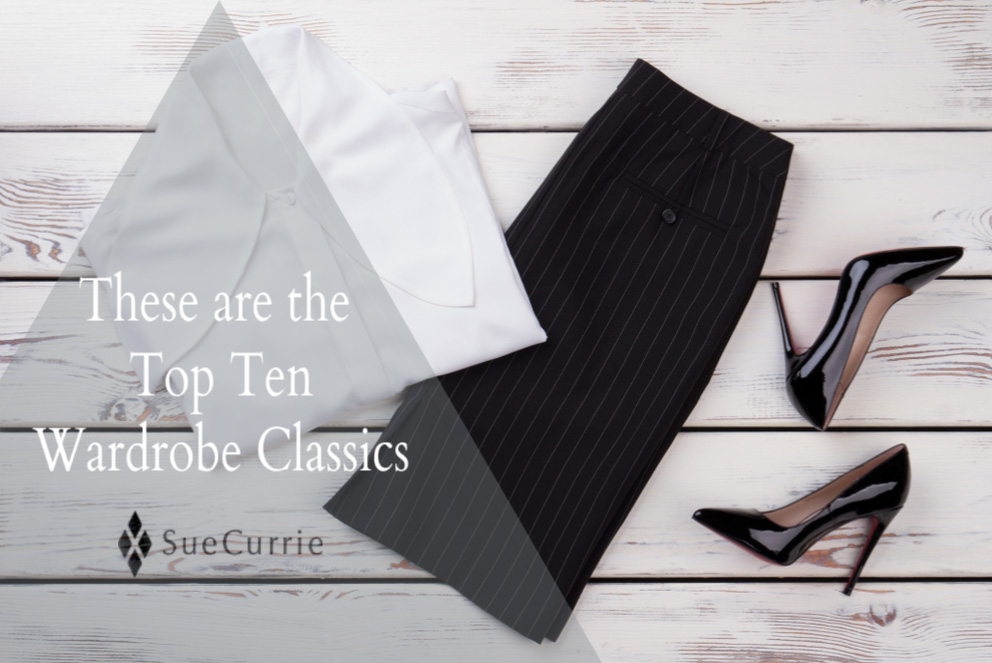 As there are still a few bargains to be had at end of season sales, to help you plan a wardrobe that fits in with your budget, I've come up with my top ten wardrobe classics.
Whether your personal brand is classic and formal or free-spirited and fashionable, a few essential clothing items can form the basis of your wardrobe. This selection of top ten items for women and men can be packed in a bag for a business trip or built upon with other items and accessories to create a more comprehensive wardrobe collection.
For Women
Little Black Dress
Suit (or near enough) of ideally 3 pieces, skirt and/or pant, dress and jacket
White long sleeved, collared shirt
White v necked t shirt
Classic skirt just to the knee that goes with everything
Evening top
¾ length trench coat
Quality hand bag
Dark denim jeans
One pair of fabulous shoes
For Men
Suit, with ideally 2 pants and 1 jacket
White long sleeved, French cuffed and collared shirt
Quality tie
Quality belt
Sports jacket
Light weight wool/cashmere jumper
Smart lace up shoes and/or classic low heeled boot
Casual shirt with long sleeves
White t shirt
Dark denim jeans
If you need some help with planning your wardrobe contact us or learn more about executive image consulting for men and women here.
My upcoming Saturday Style Series will be held on the Gold Coast and Brisbane for a very limited time only. This special offer is for six weeks as a lead in to Spring. Take a look here to learn more.
In my free video series, NOOK, LOOK, HOOK, learn more about how your image reflects your personal brand. Sign up here.
Sue Currie is a speaker and the author of IMPRESSario, Present and Promote the Star Within You. She is recognised as a leading authority on personal branding to boost image, profile, brand and business. Through her image management programs, workshops, consulting and keynote presentations, Sue helps businesses and entrepreneurs present an influential brand image.