One of the things I love about the work I do in speaking and training is hearing stories from all kinds of people from all walks of life and from entrepreneurs and business leaders when I have the opportunity to speak at conferences or attend training and online events.
Everyone has a story to tell.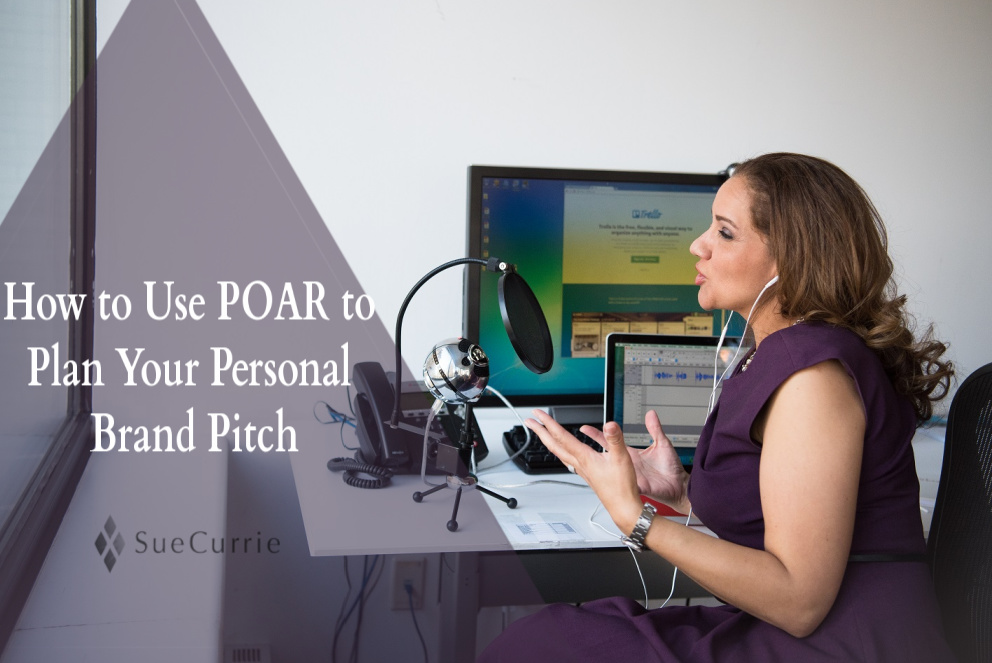 I was reminded of this recently when I was in a room of like-minded people and the question came up, "If you were to write an autobiography, what would the title be and why?"
I had to think on my feet and answered, "Life is a Journey". I also went on to say that everyone has ups and downs and that we all have a story to tell. That might not have been the most profound or entertaining statement, but I answered as authentically as I could.

When you are promoting you or your business, it's good to have a story or short pitch prepared. You'll notice online entrepreneurs usually do a pitch at the beginning of their presentation. A bio might be read for someone going on stage or a background sheet used for the media.

View my #faqwithsue video, How do I Plan my Brand Pitch?

In a previous blog I gave you ten ideas to find your personal brand story. Another quick way to craft a story to tell is using the acronym P.O.A.R for the problem, obstacle or opportunity, action and result.

To use the example of a well-known success story, let's take a look at Sara Blakely the founder of Spanx. Here is an example of POAR using her story.

Problem. Wanted to eliminate panty lines from showing through her slacks.

Obstacle and/or Opportunity. Understood that other women must have this problem too and saw an opportunity to create something practical, comfortable and with a difference to other products on the market.

Action. From her initial experiment with a pair of cut-off panty hose, Sara spend a year working on the prototype until she had a suitable sample to take to potential manufacturers.

Result. Gained publicity from Oprah Winfrey which catapulted the brand and now 20 years later is an extraordinary entrepreneurial success, estimated to be worth over $1 Billion.

A media story for a small business limousine service.

Problem. Couples wanting something different for wedding cars, but business wasn't getting enough inquires.

Obstacle. Not enough people in the area knew about the business. Opportunity was it was unique as the cars were Chevy 57s and the husband and wife running the business were celebrating an anniversary.

Action. Sent out a media release telling their personal story of being married 35 years and working together 35 years.

Result. Front page colour photo in the local paper and an editorial story creating awareness of their business and generating telephone inquiries.

A CEO panelist at a conference creating awareness of company and industry.

Problem. Industry and media lack of awareness of the scale of the company and the contribution it makes to the industry.

Obstacle. Many speakers on panel and set questions. Opportunity to announce major company developments in front of audience and media in attendance.

Action. "Tweaked" the answer to a question from chair by mentioning the major company initiatives, the background history of the company and the main "hook", the significant millions of dollars contributed, and thousands of people employed in the industry.

Result. Interview by national Australian paper resulting in a half page story and CEO photograph. The outcome resulted in personal brand awareness of CEO, company and industry brand awareness.

Want to know more about uncovering your media "hook", Download my free video series your NOOK, LOOK, HOOK 3 Steps to Create a Stand Out Personal Brand.
You can also subscribe to my regular eNews with updates and tips to grow your brand. Subscribe here.

Sue Currie is a speaker and the author of IMPRESSario, Present and Promote the Star Within You. She is recognised as a leading authority on personal branding to boost image, profile, brand and business. Through her image management programs, workshops, consulting and keynote presentations, Sue helps businesses and entrepreneurs present an influential brand image.