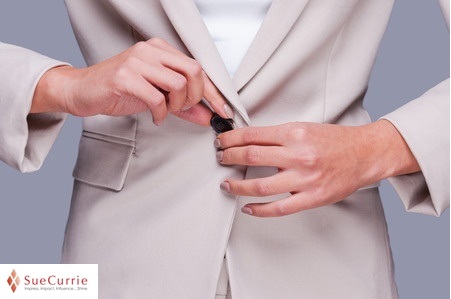 In my part of the world we call it a wardrobe. Some people might have a rack where they hang their clothes or a walk-in custom designed closet (I wish!) or a built in wardrobe. Figuring out what is in there to coordinate what to wear to work is generally universal. There used to be jingle for the fashion clothing store Sussan that went something like, "This goes with this, goes with this, goes with that at Sussan." They don't use that jingle now but it is much easier to match this and that and choose clothes that work with other things we've already got in our wardrobe. Here are a few tips.
Coordination
Clothes for your working wardrobe or to wear to an interview are not what you wear on weekends to do the shopping at Woolies or out to nightclubs. It's a different look. Or should be a different look. If you have one good working outfit for everyday of the week that is all you really need you. Ideally about 8 to 10 coordinated outfits that work together. You don't have to look different every day, just look good and professional.
Have a sort through your wardrobe and write down the basics you have. For instance black jacket, black skirt, black trousers, tan pants.Then look at what you can add to update those outfits. Maybe all you need to do is go out and buy one or two pieces such as a new shirt, new skirt or dress or one good suit.
The key elements in your wardrobe for professional dressing are separates. Pants, skirts, shirts and jackets. They are the best buy and should be in solid colours and simple styles. Basic separates for both men and women can be found at most department stores.
Dress to your own style and personal brand. You could be a dress person and prefer those or prefer a more tailored look. Michelle Obama does dresses well. Hilary Clinton wears suits well. Although both in the public eye and authoritative women, they both make an impact through their individual styles.
Credibility
Whether you're in the city or the suburbs, the idea is, appropriate business clothes should establish your credibility and show your personal brand best.
So if you work at an accountancy firm and dress like a movie star people might not trust you. Or if you dress like you're on holidays at the caravan park, they won't believe you have the capability to do the job. Your image shouldn't be something other than the professional your employers or clients are expecting.
I recall doing a seminar for a financial services firm and one of the things they wanted to address was that people were turning up in a corporate environment in the city wearing thongs. Maybe okay at the beach but not in a corporate environment.
Another time I was told of a youngish executive very keen to get ahead in her career who had a one-on-one meeting with a senior manager. The young executive explained how she was ambitious and would do anything that could she do to make it. The manager said to her,"You may be wanting to reach the top but you don't look like you do".
One time I worked from a service office where there were a couple of recruitment companies working from there also. One woman always looked smart, nice skirt, shirt and the other often wore casual long dresses with shoestring straps. In my mind I would trust the person wearing the smart outfit to find me a job.
Cut
Another aspect of clothes is the cut and how a garment fits you. Have you noticed some labels look better and fit you better? That's because that cut is suited to your particular figure type and shape. Cuts that suit me are generally Australian labels as they suit my figure. As much as I love European designers, often their cut is a slimmer fit and doesn't suit my shape. Find the brands that fit your body the best and stick with them. Don't squeeze into a size 8 if you are a size 12. Guys can be guilty of this too – jackets that are a bit tight across that broad back or don't button up properly.Try things on to see what suits you and fits you.
Cost
You don't have to spend a lot of money. However with the basic items it is wise to buy the best quality you can afford as they'll look better and last much longer. Don't feel guilty about spending money on you. We give enough of it away to the tax department, paying our mortgage, holidays and on our kids. If you budget and shop accordingly, a bit of investment dressing for your career will go a long way. Generally most image experts says you should spend around 5% of your income on your wardrobe.This is a guideline only and you wouldn't need to spend it all at once.
Clothes for professionals are "tools of trade". They are a personal overhead cost but if you plan your wardrobe well, it needn't be a significant cost, just an investment in your professional career.
Your presentation reflects the overall impression of your company. Perhaps you or your team needs to liven up your look. We work with business leaders and entrepreneurs to align your visual image with your brand, product or service. Contact us or learn more about executive image consulting or personal brand workshops for your in-house team.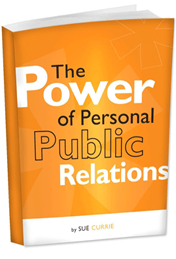 Learn more about how your image reflects your brand with the free eBook The Power of Personal Public Relations. Download your copy.
Subscribe to my regular news blog sent every two weeks to your inbox.

Read last week's blog Choose Colour To Complete Your Personal Brand
Sue Currie is a personal branding specialist and director of Sue Currie Communications an agency providing an integrated strategy of personal and professional public relations solutions to help business owners boost their image, renown,brand and business. Through consulting, corporate workshops and conference speaking, Sue helps organisations and individuals to stand out and shine.