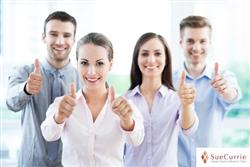 Sometime ago when I was working in a corporate environment I came up with an acronym for a team that would represent the company as ambassadors. WON team was a play on the company brand and was all about "winning", being number one and part of one team. Ultimately the project did not get off the ground but what did ensue was recognition that there was a passionate, enthusiastic group proud to say that they were brand ambassadors. Brand ambassadors are often celebrities –just one person who is chosen because of their high media profile and potential to "spruik" the business as a media spokesperson.

Well known personalities certainly do play a role but wouldn't the ideal be that all people in the organisation shine as brand ambassadors. Everyone in a business represents the company brand. You are all brand ambassadors and everything you do and say impacts on your business.

Many people at work consider that doing the job is enough. You have been chosen for your skill and talent and input as a high performing employee– or you're using that talent to head up your own company. So you do your job well but perhaps there is a need for additional executive presence to rise to the top and be a true corporate brand ambassador.

Executive presence has been a recent hot topic as the result of a survey and book produced by New York's Center for Talent Innovation.According to the results of the survey, to demonstrate executive presence you must have three key characteristics, in the following order:

Gravitas, Communication excellence and a pleasing Appearance. This is not news – it's a subject that has been around a long time. I remember "back in the day" learning about these traits at what was called modelling and deportment schools. However it is the rebranding of this still topical and important issue that has certainly got a lot of media attention.

In today's competitive environment, branding, whether books, businesses or people is an important strategy to stand out in the minds of customers, potential customers and consumers.

Al Ries the author of many books about branding and positioning has said, "The essence of marketing is building a brand in the minds of consumers".

Branding is more than just marketing and promoting your business through advertising, social media, promotional products or communicationcollateral. It is understanding and influencing how your clients or the consumer sees your brand.
Building brand ambassadors will help boost your company's bottom line as they are noticed, memorable,are able to build rapport and provide a relationship between your business and its products or services with customers or potential clients and gain influence to attract those customers to your door.
So how can you do this? Here's a few quick tips to get you started.
Gain market research. Understand what are your clients and customers are thinking. Determine what you staff say about your brand, their interactions with the company and external audiences. How do they feel about their experiences of working in the business? Combine that knowledge with the leadership team's thoughts (even if that is just you) and any views expressed through media coverage.





Condense that knowledge into a few key attributes that sing the praises of the company and refine that until you come up with a branding statement that positively reflects your business and team. Don't negate the negative attributes – this exercise will help you be aware of what they may be and take the necessary steps to overcome them.





Conduct training for everyone in the business. Go through the steps you've taken to come up with the brand position and what the expectations of people are moving forward. This is where customised training will help to instil executive presence whether that is increased communication effectiveness through presentation skills training or introducing a new dress code and personal presentation guide.





Leverage the brand though various communication channels, such as public relations, advertising, social media or website updates. Most importantly leverage your Brand Ambassadors through client networking, community and charity events and other social events where they can truly shine.




Branding will help send a consistent message both internally and externally and brand ambassadors will help boost your business.


Read last week's blog The ABC of First Impressions Count.

In my free eBook the Power of Personal Public Relations I write more about uncovering your personal brand. Download your copy here.
Sue Currie is Australia's leading personal branding specialist and director of Sue Currie Communications an agency providing an integrated strategy of personal and professional public relations solutions to boost your image, renown, brand and business.
Sue is also the creator of the Shine Personal Branding System™ a process she uses to guide managers, executives and entrepreneurs to progress in their careers. With her consulting, coaching, corporate workshops, and conference speaking, Sue helps organisations and individuals to stand out and shine.