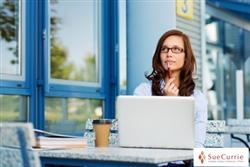 One of my relatives recently announced the impending addition of a new member to the family. I wonder what they will name him or her. And isn't that the most asked question – after do you want a boy or girl? Think about the last time you named a child or perhaps a pet how many days and nights did you deliberate over choosing just the right name? Think of all the baby name books, the names that jumped out at you while watching TV or listening to the radio. How they sounded when you said them out loud. A lot of time and effort was spent in coming up with just the right name because you knew that you'd have to live with your decision for many years. Choosing a name for your business and products can be just as difficult.
Take time to choose the right name. Your entire brand image may be at stake. A good name portrays personality, stands out in the crowd and is memorable. A great name is one that is easy to spell, pronounce or remember and tells the consumer what you do. A perfect example is Toys R Us. Everyone instantly knows what the company sells.
However there has been a big trend lately to unusual or "made up" names. Think Google, Adobe, Nike, Starbucks. They certainly stand out from the crowd and are memorable.
What about your own name? Many people would think that is too limited or makes you sound like a one person operation. What if I want to sell my business? We all know the name of many large companies where that is not an issue. Think real estate, lawyers and finance firms. If you consider most business is done by referrals as people want to do business with people they like and trust, perhaps your name is the personal brand they like and trust.
Another consideration is to think how the business name will translate to a domain name and across social media. What would LTD Enterprises do? Even LTD Plumbing or Graphic Design would be better – particularly if people use a search engine to find a plumber or graphic designer.
Inventing or reinventing a brand can take many forms – new packaging design, advertising, sometimes a whole new personality along with the business name. The key is to make sure all of those elements work together and portray the same image. After all you want your business to leave a positive impression on your customers, your employees, your suppliers, the media and the public at large.
Read my January eNews – It is all About the Base
View my video on part one of my Shine Personal Branding System. Know your personal brand essence.
In my free eBook the Power of Personal Public Relations I write more about uncovering your personal brand. Download your copy here.
Sue Currie is Australia's leading personal branding specialist and director of Sue Currie Communications an agency providing an integrated strategy of personal and professional public relations solutions to boost your image, renown, brand and business.
Sue is also the creator of the Shine Personal Branding System™ a process she uses to guide managers, executives and entrepreneurs to progress in their careers. With her consulting, coaching, corporate workshops, and conference speaking, Sue helps organisations and individuals to stand out and shine.